The new WOCU 0.44 version comes loaded with new features and improvements in response to requests and suggestions from our users and current market needs. And always, working in a unified and consistent approach to monitoring.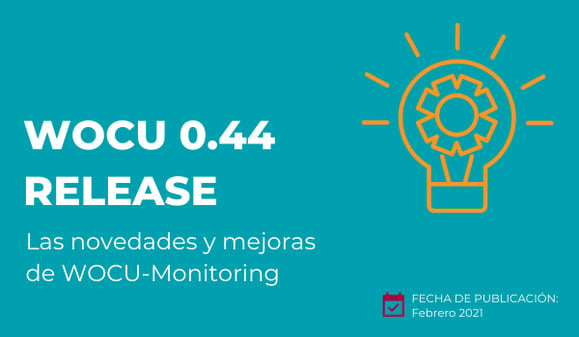 One of the main goals of WOCU has been, and still is, to guarantee the integrity, access and use of the information registered and stored within the tool. In view of this and being aware of the existing clients with certain security needs (which entails a certain level of risk), in this version we have worked continuously in the design and creation of a powerful Security Module, according to the most current standards of protection and prevention, in order to mitigate any risk of intrusion or malicious activity that may fracture the accessibility and stability of the tool.
We have also updated the Programming ("Scheduling") view, the epicenter of all current report schedules, incorporating the creation date of each schedule, as well as new elements for efficient navigation and reading of the data displayed.
To continue simplifying the analysis, identification and treatment of incidents, the Events listings will now record and display the exact date and time of the downtime of a device or service.
Regarding asset aggregation, the scope and capacity of one of the most used import mechanisms in the tool has been extended.
WOCU is now capable of auto-discovery of assets using SNMP protocol version 3. Likewise, this version brings with it a new task for auto-discovery of MultiReigns based on a given hostgroup, through the automatic execution of a new internal task.
If in previous versions we added the possibility of programming different valid notification periods, in this version we have added a new filter in the list of Alarms (Problems), in order to be able to distinguish between assets that are outside their configured notification period.
And we continue updating our Monitoring Packs Catalog, incorporating new monitoring packs and services. As well as the refactoring of numerous WOCU components to REACT technology.
But there is more, keep reading, get to know the complete list of new features and expand information with the User Manual if necessary.