A3Sec celebrates its tenth anniversary amid several milestones such as the consolidation of WOCU-Monitoring as an independent business, as well as the success of its approach based on cybersecurity, advanced analytics and hyper-automation.
In the midst of a challenging panorama for global cybersecurity due to the accelerated adoption of technology and the diversification of cyberattacks, this industry has evolved drastically in recent years and will continue to be decisive in the near future, since only by 2025 is it estimated that there will be at least 16.5 billion devices connected via IoT, which will surely demand these services.

After ten years, the forecasts about computer attacks, which at one point were considered futuristic or even unlikely, not only came true but also jeopardized critical infrastructures remotely and automatically, generating millions in losses for the organizations, many of which remain extremely secretive about such incidents and consequently many of these stories never make the headlines.

This process of change has been closely followed by the cybersecurity company A3Sec, founded by Javier Lopez-Tello (current CEO), a prominent businessman in the technology sector who has been behind the emergence of other companies such as the S21Sec Group, ADD or AlienVault. "A3Sec has been up to the challenge of putting on the market an innovative and differential cybersecurity services company at a global level, focused on meeting the most important needs of clients and being part of their teams, their history and their successes", explains the executive.

The company was born in 2012 as a spin-off of the American cybersecurity firm AlienVault, at a time when the massive adoption of technological solutions and applications of all kinds due to the 'boom' of smartphones led to a series of critical challenges in this matter.

The decade between 2011 and 2020 brought with it several of the strongest and most memorable computer attacks of the century, including, among others, the hack suffered by the Dropbox file hosting service that affected more than 68 million accounts, or the breaking of the networks of the Target department store chain that meant the theft of data of some 70 million people, generating a cost of US$61 million for that organization.

In the context of the rise of cybercrime, A3Sec emerged 10 years ago with an approach focused on the constant monitoring of threats through its digital think tank, specializing in the detection of these risks through data analysis and machine learning, as well as the response to hacking attempts with a strategy based on hyper-automation.
The path to the ascent
This approach has allowed the company to have sustainable growth after this first decade and, just in its first two years of life, it had already opened offices in Mexico (2013) and Colombia (2014) where it also acquired local consulting firm Enfocus.

2016 was a special year for the company because WOCU-Monitoring was launched, a service that facilitates centralized monitoring and supervision of all connected equipment in an organization through a single source of information, integrating the latest Open Source technologies.

This solution represented a milestone for A3Sec since in 2018 this was chosen as the most innovative platform at OpenExpo Europe, considered one of the largest business events on the Open World Economy (Open Data and Open Innovation). And by 2021, thanks to its traction, WOCU-Monitoring was established as an independent company and part of the A3Sec Group.
A future of possibilities and challenges
The future continues to be as promising as it is challenging for the sector in the midst of the diversification of attacks on organizations that forces them to integrate these tools to protect their digital environments, being a competitive differential in today's market and a seal of guarantee for many users.

According to the German statistics portal Statista, Internet users recorded

18 million data leaks in the first quarter of 2022, which, although it continues to represent a significant number, is 58% below the results obtained between October and December 2021, when 43.17 million were reported.

Just as the pandemic accelerated many technological processes and the adoption of hybrid and remote work models, it also triggered computer attacks and marked a turning point in the matter, in line with the signs that had been taking place in previous years in the midst of the technological revolution.

"The Covid-19 pandemic will pass, but events will continue to take place that will require intensive use of digital technologies so that the world can continue to operate," the Organization of American States (OAS) and the Inter-American Development Bank (IDB) in a joint report.

In fact, and contrary to what one might believe, with the return of millions of employees to their jobs after the pandemic, the risks continue and the gaps continue to be exploited by cybercriminals, to the point that last year the highest average data breach cost in 17 years, rising from $3.86 million to $4.24 million in 2021, according to a report by US technology firm IBM.
Redefining the role of cybersecurity
To face this situation, throughout these ten years A3Sec has been guiding innovations in the sector and has adapted to market trends to respond through a comprehensive strategy, which includes reviewing the inventory of assets in companies to have clarity about what organizations must protect and not wait for incidents to occur to start defining a response.

This is complemented by other solutions such as advanced analytics to anticipate new attack vectors and, at the same time, rule out false positives to optimize time, while the teams focus on solving what is important. Added to this are its developments based on hyperautomation to permanently shield systems and close gaps that could be exploited by cybercriminals.

Precisely, in its report, IBM highlights that in 2021 artificial intelligence played a decisive role in reducing costs in organizations, since its full implementation in cybersecurity schemes made it possible to mitigate losses associated with the data breach for up to US$3.81 million in average.

Automation takes organizations and their responsiveness to the next competitive level as these tools contribute to reducing detection time and therefore mitigation, which added to cloud modernization configures a complete cybersecurity scheme. Not for nothing, it is estimated that the companies that partially or totally adopted artificial intelligence and security automation climbed to 65% in 2021 compared to 59% in 2020.

By integrating these solutions, A3Sec has accompanied the development of the digital economy and the progress of companies as they increasingly learn to deal with these attacks targeting the most valuable asset in organizations today: data.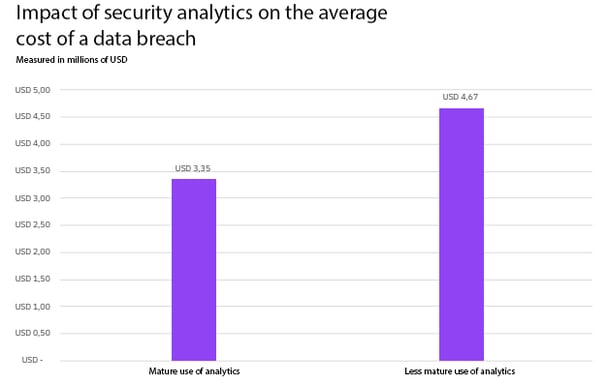 The frenetic activity on the internet has driven data consumption equivalent to 79 zettabytes in 2021 and this figure is expected to skyrocket to 180 zettabytes in 2025, while cyber attackers are expected to continue trying to penetrate this digital highway to steal information. Thus, cybersecurity teams are constantly challenged to analyze large flows of information today in order to reach precise conclusions about the risks that exist, with which data analytics and big data are increasingly appropriate instruments. in the industry, which leverages this analysis to mitigate risks and generate savings of up to 32.9% in the costs of security breaches (IBM graph).

It is precisely there where A3Sec's mission lies in shielding our clients' digital assets through effective solutions that contribute to repositioning the role of cybersecurity in companies, by convincing them more and more of the importance of adopting a comprehensive and comprehensive approach. solutions that become strategic allies for its sustainable growth in a world that unfortunately will continue to be accompanied by these threats in the coming years.